The Botmatrix created five robots for Heddatron, a play written by Elizabeth Meriweather, directed by Alex Timbers and produced by Aaron Lemon-Strauss at the Les Freres Corbusier theatre company.
The play ran from February 8-25, 2006 at HERE Theater.

Billy and Hans made a few appearances upstate. They were on display at the Scenectady Museum in July-August 2006. We did a talk and demo at the Museum on July 22, 2006. We gave a talk and demo about them at the North American Computing and Philosophy Conference on August 11, 2006. The video is online here. We spoke after the Robot Magazine guy (minute 12:15 of the video).

Hans has gone onto a solo cabaret career. He performed "Bridge Over Troubled Water" with Sam Forman on guitar at Ars Nova's Automatic Vaudeville on June 8, 2006 and at Ensemble Studio Theatre's Cabaret Scientifique on May 15, 2006. Watch his performance.

We spoke about them at Dorkbot in March. The video is available online here. We're the third and final speakers in the video (hour 1:14 of the video).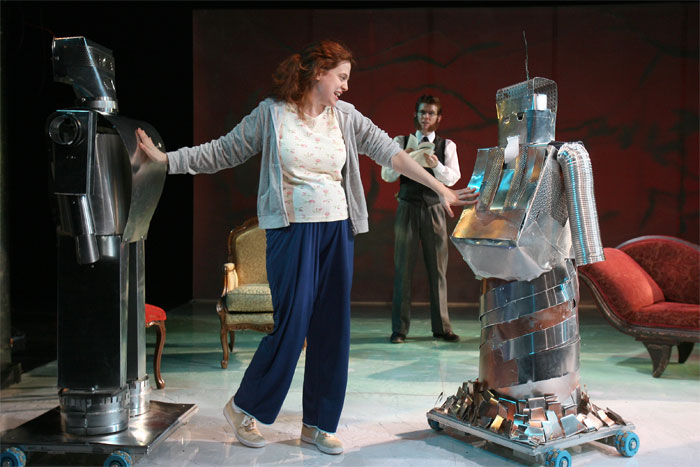 Photo: Joan Marcus / Les Freres Corbusier
From left: Hans, Jane played by Carolyn Baeumler, Henrik Ibsen played by Daniel Larlham and Billy in the Robot Forest scene.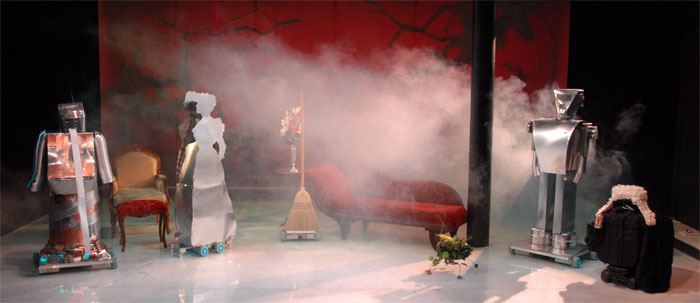 Photo: Paul Vlachos
From left: Billy, Aunt Julie, Berta, Patty, Hans, Judge Brack.
Robot Operators
During the run of the play each robot had an operator.
Billy operated by Cindy Jeffers
Hans operated by Meredith Finkelstein
Aunt Julie operated by Alaina Taylor
Berta operated by Michael Shulman
Judge Brack operated by Betty Tung
Design
Hans & Billy
Aunt Julie, Berta, Brack
Concept v1.0 (23MB!)
Concept v2.0
Concept v3.0
Aesthetic influences
Meatwad, Aqua Teen Hunger Force
Brookhaven National Laboratory robot, monitors radiation doses
Eric, Captain WH Richards, 1928
George Groz collages, 1920s
Hardiman, General Electric, 1968
Elektro & Sparko, Westinghouse Electric, 1938
Girl playing a lute, Gianello della Torre, 1540.
References
Bailly, Christian. L'age d'or des automates. Paris: Editions Scala, 1987.
Breazeal, Cynthia, Brooks, Andrew, Gray, Jesse, Hancher, Matt, Kidd, Cory, McBean, John, Stiehl, Dan, Strickon, Joshua. "Interactive Robot Theatre". Proceedings of the 2003 IEEE/RSJ Internationl Conference on Intelligent Robots and Systems. Las Vegas, NV. October 2003.
Mandey, Venterus. Mechanic powers; or the mystery of nature and art. London: Tho. Shelmerdine, 1709.
Menzel, Peter and D'Aluisio, Faith. Robo sapiens: Evolution of a New Species. Cambridge: The MIT Press.
Reichardt, Jasia. Robots: Fact, Fiction and Prediction. Harmondsworth, Middlesex: Penguin Books, 1978.
Rosheim, Mark E. L'automa programmabile di Leonardo. Firenze: Giunti; Vinci: Biblioteca comunale.
Schodt, Frederik L. Inside the robot kingdom: Japan, mechatronics, and the coming robotopia. Tokyo; New York: Kodansha International, 1988.
Shoutouts
Patty the meatbot is the robot costumed in vines who hangs out upstage during the Robot Forest scene. She was made by Dan Mikesell, Liz Mikesell and Jill Losquadro.
The Beebots zoom across upstage during the Robot Forest scene. Their creators are Carlyn Maw, Phaedra Riley and Chrisitina Goodness.
We'd like to thank Charlie (info@superdroidrobots.com) at SuperDroid Robots for making the remote controlled wheels for Hans, Billy, Aunt Julie and Berta.
And Perry at K Tooling for fabricating the skeletons for Hans and Billy.